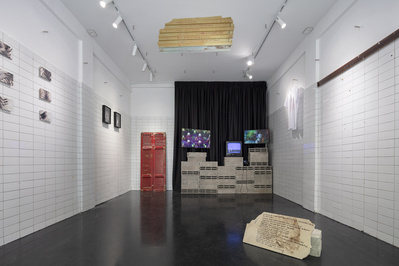 a group show by Gian Despina, Sally Kastoun and Shatr Poetics
VERSES و SURFACES explores text-based interventions that break out of traditional modes of language representation.
Gian Despina - Born in São Paulo, Brazil, Gian Despina is a writer, researcher and artist. He has worked and taught in educational projects such as International Art Academy Palestine, Escola da Cidade (São Paulo), the Ionion Center for Arts and Culture (Greece) as well as CILAS (Cairo). He has participated in the Sheffield Film Festival, Les Rencontres d'Arles and the Museum of Modern Art in Rio de Janeiro as well as written articles for Mada Masr, Folha de São Paulo, Arts Everywhere, World Policy Institute, and several other independent publications.
Sally Kastoun - Sally Kastoun is a multimedia design artist with a focus on audiovisuals and poetry. She studied filmmaking at the University of South London and holds a Bachelor's degree in Audio-Visual Design from the American University of Science and Technology (AUST) in Lebanon. Sally's work spans across multiple mediums, including digital graphics, video production, photography, book design, and print design.
Shatr Poetics - Shatr is a collective that aims to excite, maintain, and nurture the culture of writing and poetry in Beirut and to engage mediums of expression where poetics flourish through workshops, exhibitions, performances and other manifestations. Shatr's interest lies in creating conversation between classical and modern conventions of poetry and its most current kinetic forms, while recontextualising modules of the spoken word and other contemporary presentations of poetry.